I am completely swamped with stuff in the next month or so.  I should probably write everything down on a calendar, or something. Oh wait, I have that fabulous Erin Condren Life Planner in my laptop bag.  I can't wait to see what she has in store for the 2010-11 version.
So anyway, starting next week, July 19th to be exact, I am going to be participating in the Pro Blogger Challenge with The SITS Girls on Blog Frog.  It is a plan to which gives you "31 Days to Build a Better Blog".  I am completely stumped with my blog writing lately, and I need some new ideas.  This was the perfect challenge for me.  I hope to learn more about myself, my blogging, and be able to change some of the things that I do with my blog.

During the first week of August, I will be attending the BlogHer Conference in New York City.  This is my second BlogHer, as I attended last year in Chicago.  I had a great time.  I will be attending some parties, but I am not going to overwhelm myself this time.  Seriously, I was running around like a chicken with my head cut off last year trying to get to all the events.  I can't wait to see all of my bloggy friends there too.  If you are going to BlogHer, be sure and come say "HI" to me.
The week after Blogher, I will be hosting a Back-To-School Giveaway Bonanza with 11 other awesome bloggers. We have some great sponsors lined up for this event.  We will be announcing all the sponsors and specifics soon on our Facebook page.  Please "LIKE" our Facebook page to get the latest information and a list of all of the Bloggers participating.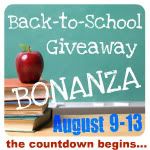 And last but not least, I will be finishing my summer with Bloggy Boot Camp in San Francisco. This is my second Bloggy Boot Camp as I attend Bloggy Boot Camp Phoenix.  I will be speaking at this particular BBC.  I will also be doing a little road trip up to San Francisco with my Bloggy Pals.  They also recently added a Bloggy Boot Camp in St. George, Utah on November 13, 2010.  I will most likely be attending that one too, as it is the day before my 35th Birthday.  I think that is the perfect way to celebrate turning 35!
Wow, looking at all of this freaks me out. But it's a good freak out, right? Plus the Angry Kid starts Kindergarten the first week of September.  I can survive all of this…I can…I hope.  Wish me luck!