I've only told my story of going to Chicago through pictures so far.  It was whirlwind trip, which only lasted two days.  I wish it could have lasted longer.  I was aching when I had to leave.  Or maybe it was just my feet aching as I did a ton of walking.  I went to Chicago to visit the Housewares Show which was going on last week. The people from Hoover hosted us on this fabulous trip because they wanted to hear what WE wanted to say about their products.  But the people of Hoover did not promise or probably even imagine would a great and memorable time we would have.
I landed in Chicago and was instantly greeted by Mel.  I texted her when we landed, and she was waiting for me at my gate.  We then went on an adventure to find our baggage, as the planes were too full, and we had to check our carry-ons.  We were also able to meet up with Lee and Sarah at the baggage claim, and then our adventure began. We grabbed a taxi and headed to our Hotel.
Did I forget to mention that this was the first day of Daylight Savings, and that I had three hours sleep the night before? Well I did.  I needed to catch my second wind. I think I caught my second wind on the way to the hotel.  I was so excited when we arrived at the hotel, because IT WAS BEAUTIFUL!  I'm now addicted to Affinia Hotels.  Mishi deemed "swanky" as the proper word to describe the Affinia.  This hotel was way to posh for me, and I'm from Orange County, land of snobbery. Even better than being in this posh and swanky hotel was being greeted by Cynthia aka Nap Warden in the lobby.  Cynthia is a Chicago native and she came to see me, and a few others.  I'm going to be a little selfish for a second and think that she came all the way from her warm house to see me. I checked in and we headed upstairs to my room.
I was greeted with this room.  It was a suite, for just me.  Seriously, if I didn't have the husband, kid, dogs, job, and that house in California, I would have moved in.  I freshened up and we went on our way.  We were headed for a meet-up at Gino's East Pizzeria, which was right next to our hotel.  How convenient, an awesome hotel and real Chicago pizza all on one street.
We had a great time at Gino's and I got more acquainted with some awesome people. I learned that Sarah's husband and my husband used to work together, for years. How strange is that, because she lives in a completely different state from me.  I also learned about cat bloggers.  These are not people who blog about their cats.  They blog as "the cat" in the "cat's perspective".  I get to socialize with other bloggers, and learn nifty facts also. Did I mention that our trip to Gino's was for appetizers? Yea, we had a whole other dinner event that we were going to after. We left Gino's and went to clean up before our real dinner.
We had an awesome dinner at Hub51. It was tapas style, which meant there were many places and several courses introduced at our table.  It was great because I'm a picky eater and there was a vegetarian present at our table.  It was the best for both of our worlds.  Notice that I did not take pictures of the main courses. I took a picture of the dessert. Does this carrot cake look divine? And I don't even like carrot cake, but I had to photograph it.  When we sat down to dinner, I stepped out of my comfort zone.  I chose to sit with people that I did not know. It was a great ice breaker for everyone.  I would call myself a "mom blogger", but I also blog about style, photography, and my home.  I was able to relate to everyone at my table.
After our fantastic dinner, we decided to be adventurous. Yes, it was almost 11pm, but we went out for a photo walk. We were leaving the next day, as this was a quick trip, and wanted to capture the essence of the city at night. Yes, it was a little cold for my standards, but I had to get some photos in. I think the photos below were worth freezing, right?
We decided that it was time to go to bed, because it got really cold and we were all tired.  Of course, since my body was still on California time. I was up till 2am that morning. It was not good when I had to wake up at 7am the next morning.
I had a great time on my photo walk with Mishi, Lee, Mel and Holly.  We all got some great shots and learned from each other.  I learned that I was the lone Nikon user, as usual.
I want to give a shout out to all of the wonderful people that I met in those two almost one day(s) in Chicago. It was an experience that I will not forget it.  I hope to connect/re-connect with everyone that I shared some time with.  I feel that I left some people out in this post, but I'm somewhat pissed that I did not get some photo-ops.  Maybe because I spent time actually chatting with these people instead of being the paparazzi that I usually am.
I will be doing a part two of this trip next week.  I will talk more about The Housewares Show and all of the great products from Hoover that I learned about.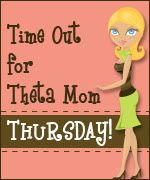 This post is also in conjunction with Theta Mom's "Time Out for Theta Mom Thursday".  Even though it was a busy event, I got to spend some quality "me" time with many other fabulous people.  I enjoyed this almost, if not more than getting my feet rubbed during a pedicure!
Disclosure: My trip to Chicago was sponsored and paid for by Hoover.  I did not have to post about it, they did not influence me to post about it, but heck I had a great time, so why not!