This is my second year participating in Kim's aka CuppaKim Mug Swap! I was so excited to hear that it was that time again! I got super excited. And then I realized that I had to have my package mailed out right before I left on vacation! Luckily, I work well under pressure!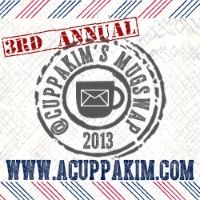 I was given Kristen Cheney as the person to whom I was sending a package to. I follow Kristen on Instagram and I knew that she was a runner like me. Which it pretty exciting! I also found out that she likes to bake. So I ummm went a bit overboard when I sent out my package.
I went shopping at Daiso which is a local Japanese store and picked up some fun baking goodies, a mug, and other miscellaneous items. I also added in some Nuun because I'm a huge fan of Nuun, and everyone should stay hydrated!
While I was gone on vacation, I received an awesome package from Tegan. She sent a fun box with a turquoise sparkly cup, fun straws, and Starbucks Refreshers! You know that I love sparkly things! It was awesome to see this surprise when I arrived home from Yosemite! Thanks Tegan!
Kim was pretty awesome for organizing all of this! It was a pretty big endeavor. She posted the following stats for the swap:
Total Participants: 877
American Participants: 829
Canadian Participants: 20
International Participants: 28
Countries Represented: US, Canada, England, Ireland, Scotland, Australia, Malaysia, Thailand, India, Germany, Spain, France, Slovakia, and Turkey
States Represented: 50
Coffee Drinkers: 583
Tea Drinkers: 177
Hot Chocolate Drinkers: 108
1st Time Mug Swappers: 754
2nd Time Mug Swappers: 104
3rd Time Mug Swappers: 17