Two year's ago, Kim started her blog, "A Cuppa Kim". For her annual blog anniversary, she hosts a "Mug Swap" which is quite rad for Kim to do on her blog anniversary.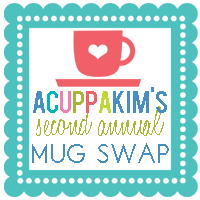 Kim was great about pairing everyone up and sending out the information with the person's name, address, blog etc. for the mug swap. Kim said that there were over 225 people signed up. I can imagine that it took a ton of time to organize, yay Kim!
I was given Kate of Upsidedown Kate as my Mug Swapee! I sent Kate a white ceramic mug that said, "Good Morning" on it, cute ceramic measuring spoons, and a dish towel. Everything was from World Market.  I'm kinda obsessed with World Market right now.

And I received the cutest care package "Mug Swap" box from Jessica of Keeping Up With The Johnson's. An adorable polka-dot mug (which I almost bought myself prior to the swamp, total coincidence), measuring cups, delicious tea, and awesome stationary. I mean really, who couldn't love note cards that say, "Freakin' Thanks" on them. They are so me!
This was so much fun and I had a blast, "Mug Swappin'". I can't wait to see everyone else's swaps!