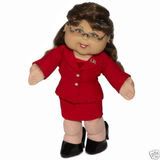 Auction Cause has (4) Special Edition Presidential Cabbage Patch Kids on e-bay right now. 100% of the profits goes to the United States Marine Corps Toys for Tots program.
They have McCain, Obama, Palin, and Biden.
I saw these on e-bay's main page this morning.
Just thought I would share!